RWANDA LEGACY OF HOPE MISSION MARCH 2017
TRAINING OF 14 SURGICAL RESIDENTS IN RWANDA MARCH 2017

A Multinational OPERATION HERNIA Team, led by Chris Oppong, Consultant Surgeon and Chairman of Operation Hernia, have just returned from RWANDA. The course Faculty drawn from U.K., GERMANY and AUSTRIA trained 14 first year Surgical Residents in both Mesh and Tissue Repair of Groin Hernias.
Lectures on almost all aspects of Groin hernia surgery were delivered on Day 1 and Day 2. The most important lecture was on Anatomy of the Groin delivered by Dr RALPH LORENZ, Consultant Surgeon from GERMANY. The lectures were followed by hands on, one to one Operating Theatre training at CHUK and Rwamagana Hospitals. This took 5 days.
It was a very successful Programme which provided essential, high quality training to RWANDAN POSTGRADUATE SURGICAL TRAINEES. Operation Hernia is grateful to the other members of Faculty : Mr David Sedgwick, UK; Dr Maik Lechner, Austria; Dr Albrecht FRUNDER, GERMANY and Dr George Ntakiyiruta from Rwanda.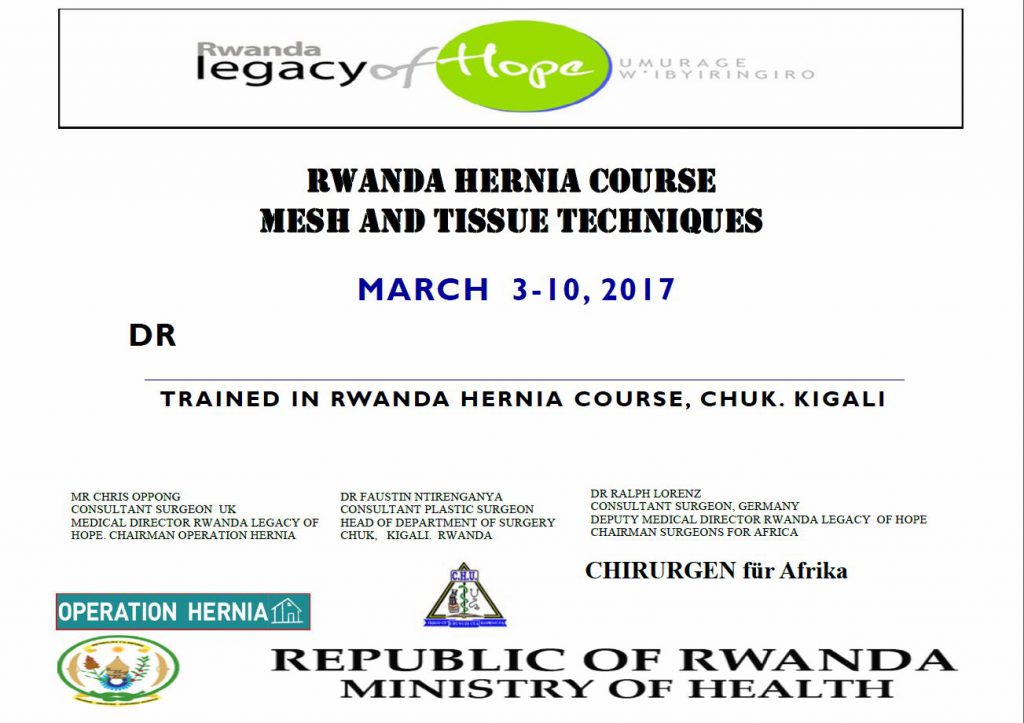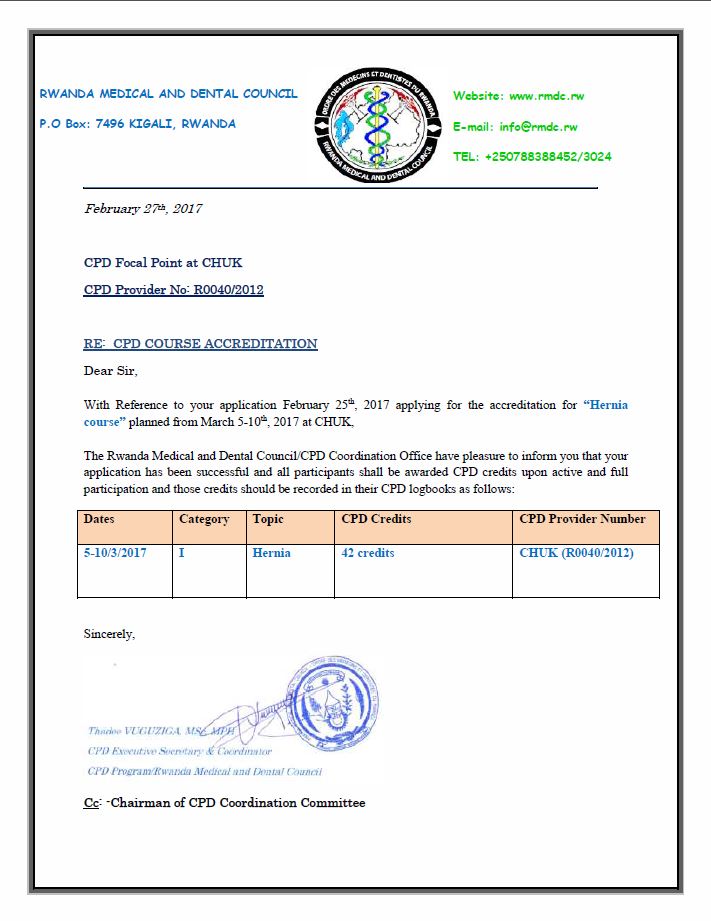 RWANDA LEGACY OF HOPE MISSION MARCH 2016
This training programme was registered by the Rwandan Medical Council for CPD points. A total of 13 local doctors received training in 2 hospitals. All but one of the doctors had skills in hernia surgery. The training programme included formal teaching on anatomy and the essentials of mesh repair. This was delivered by PowerPoint. Trainees then had hands-on training –
Assisting OH surgeons
Assisted to insert mesh in at least 2 cases.
A few had opportunity to do more cases.
At Gahini hospital, trainees were presented with Certificates to recognise their attendance at the training sessions. 5 Doctors adjudged to be competent at the end of the 5 days were given Mesh to use in their hospitals. All the cases they do will be documented for review when the team visits in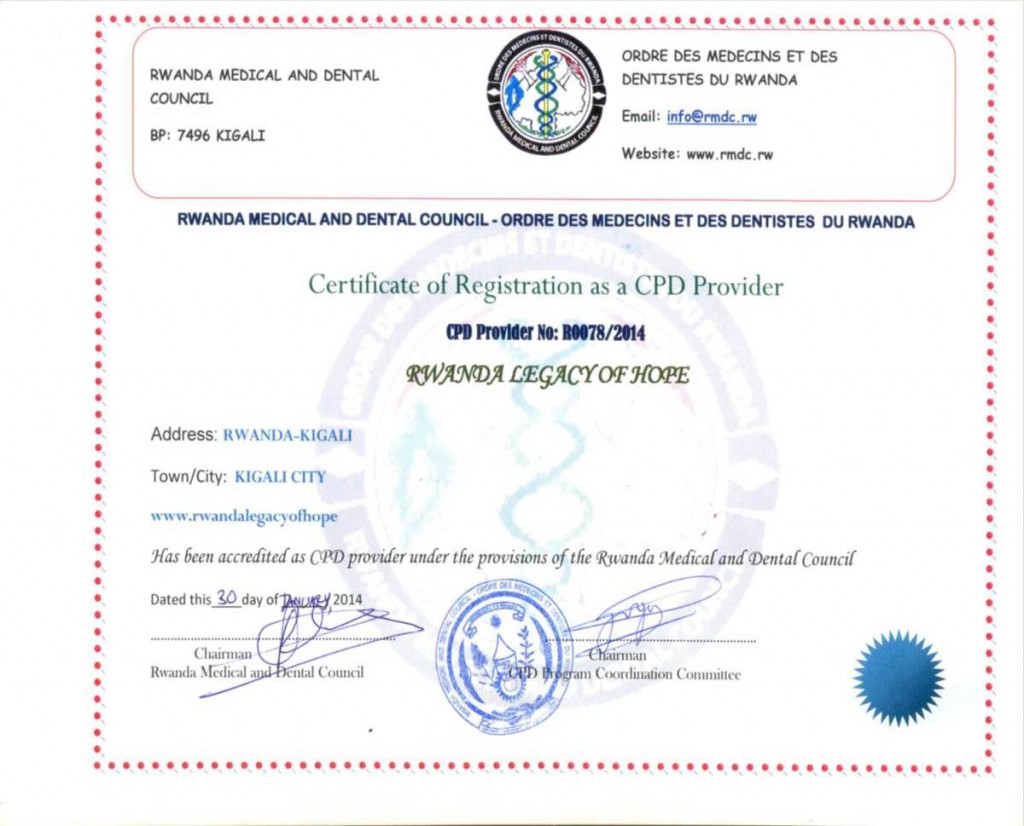 Hernia Operation CPD accreditation awarded by the Rwanda Legacy of Hope medical trainers.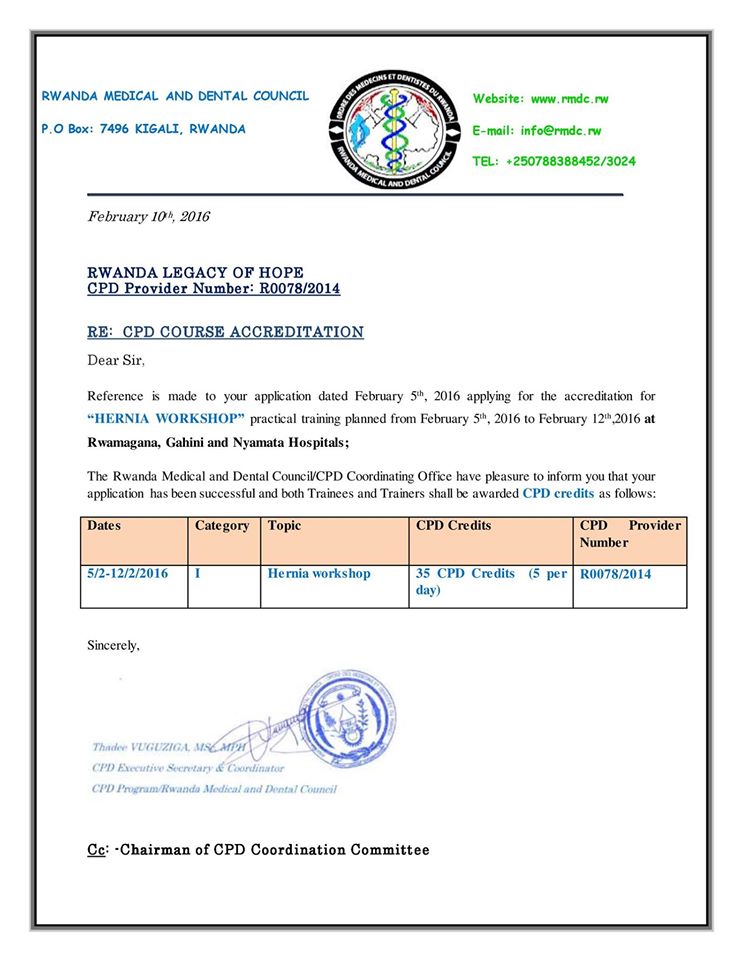 CPD certificate for doctor after training